Events
THURSDAY, OCTOBER 31 5:30-6:15pm: Halloween Costume Contest
Do you have a dog or cat or pony who loves to dress up for Halloween? Think you may have the best costume out there? Bring them to Denny Menholt University Honda and enter our Halloween Costume Contest! Enter the competition at 5:30, judging begins at 5:45, winner is chosen at 6:15. Winner will receive a goodie bag with some fantastic prizes. Entry is free, winner must be present to win. Participants will be judged by DMU Honda employees. No tricks necessary to win!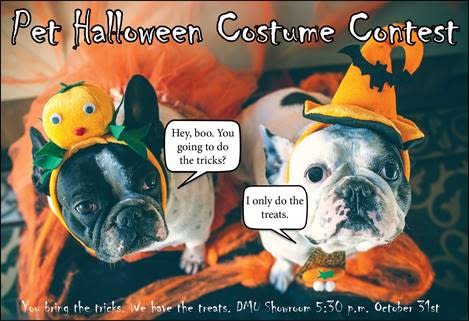 SATURDAY, NOVEMBER 23 12:00-2:00pm: Humane Society Adoption
Let's face it, we're beyond grateful for our pets. And there's no better way to get into the giving season than opening your home to a new puppy! Our friends at the Humane Society of Western Montana are bringing puppies to our adoption event on Saturday, November 23rd. Adoptions will take place between 12 and 2 p.m. and all applications will be take on a first-come-first-served basis.
*Participants of all events will be asked to sign a photo waiver so we may share photos on our social media platforms.*